Hollywood Reacts to Deadly Las Vegas Shooting, Sending Prayers and Calling For Stricter Gun Control Laws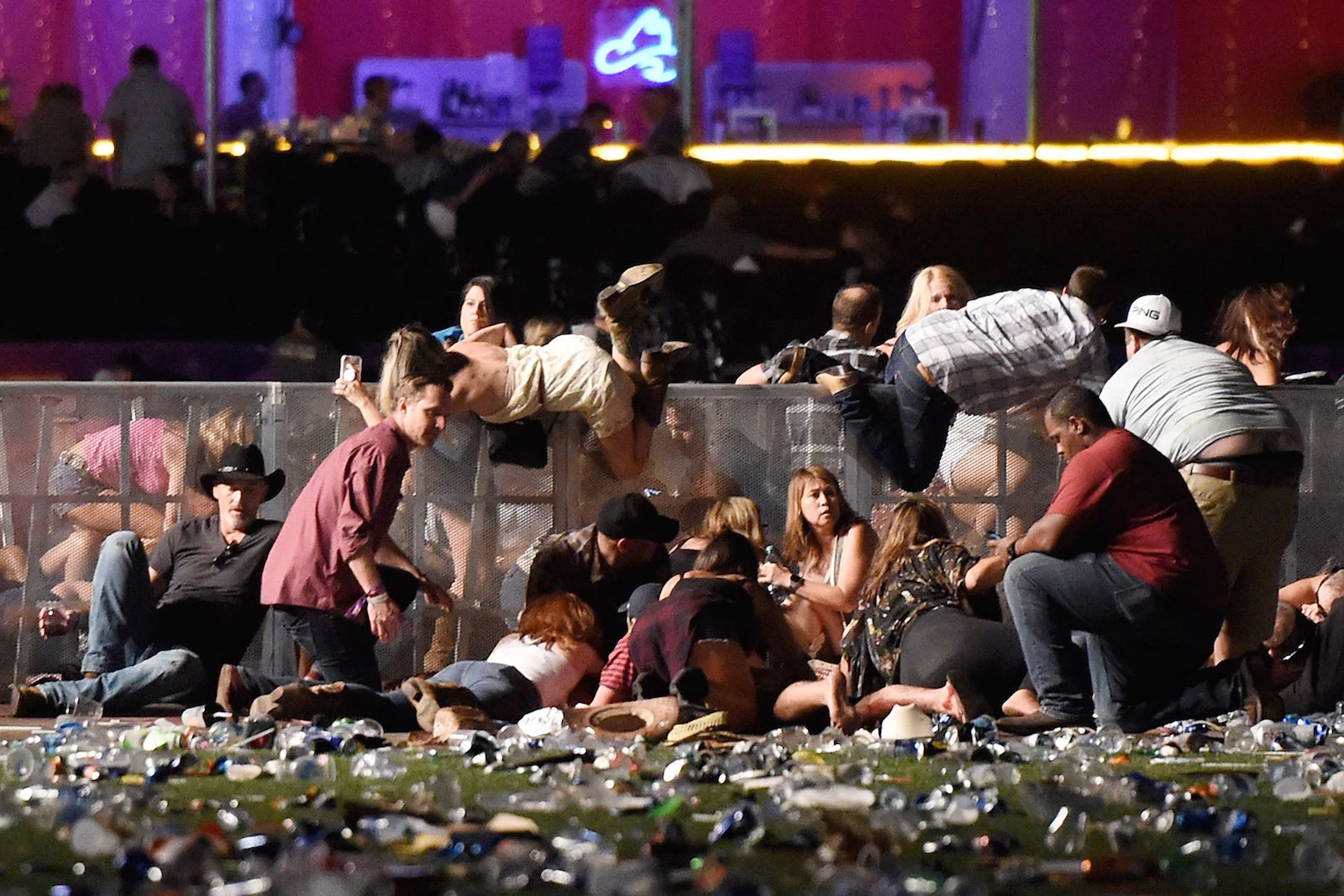 More than 50 people were killed and over 400 were injured in Las Vegas on Sunday night in what's being called the deadliest mass shooting in U.S. history.
Around 10:00 p.m. Pacific Time a gunman began firing shots into the crowd at the Route 91 Harvest Festival, a three-day country musical festival, as headliner Jason Aldean performed. Approximately 22,000 people attended the concert, according to Huff Post. The shooter, since identified by CNN as 64-year-old Stephen Paddock, fired from the 32nd floor of the Mandalay Bay Resort and Casino. The gunman killed himself inside the hotel room as police arrived where they found at least 10 firearms, including "long rifles."
In the hours since the deadly shooting, Hollywood, along with those in the country music industry, has reacted to the horrific incident. Julianne Moore, Ava DuVernay, Stephen King, Kerry Washington, George Takei, and Lin-Manuel Miranda, among others, have taken to Twitter to send prayers to Las Vegas and call for stricter gun control laws.
I mourn this senseless loss of life. What will it take, #Congress, for you to act? @Everytown @MomsDemand #endgunviolence https://t.co/6HpuWk9ZLe

— Julianne Moore (@_juliannemoore) October 2, 2017
My mind reels from the sheer horror of what happened in Las Vegas last night. Today I mourn with many the tragic loss of life… /1

— George Takei (@GeorgeTakei) October 2, 2017
Condolences to all of those scarred by the violence in Las Vegas last night. We are with you.

— Stephen King (@StephenKing) October 2, 2017
The lone wolf. The local shooter. The gunman. Any and everything, but terrorist. Wonder why.

— Ava DuVernay (@ava) October 2, 2017
Heart aches for #LasVegas

— kerry washington (@kerrywashington) October 2, 2017
50+ souls. Hundreds injured. 1 terroristic psychotic with an absurdly powerful weapon. Pure madness. Get these weapons off the streets!!! https://t.co/0CUAa12meJ

— Jeffrey Wright (@jfreewright) October 2, 2017
My heart goes out to all those affected my this senseless tragedy in Las Vegas.

— Hailee Steinfeld (@HaileeSteinfeld) October 2, 2017
Oh God. Vegas. WTF is happening. Can't keep up with all the pain this country is facing. Sending love to Vegas.

— bob saget (@bobsaget) October 2, 2017
Heartbroken by the news out of Las Vegas.
Praying for those of us waiting for news from loved ones who went to hear live music on a Sunday.

— Lin-Manuel Miranda (@Lin_Manuel) October 2, 2017
Woke up to the heartbreaking news from Las Vegas, my thoughts are with everyone and their families. Love. H

— Harry Styles. (@Harry_Styles) October 2, 2017
I won't be going on @TODAYshow because of the awful events in Las Vegas. Inconceivable that such things are so common.

— Russell Brand (@rustyrockets) October 2, 2017
My heart breaks for Las Vegas. The victims and their loved ones. Thank you to all the first responders who rushed to help.

— Sophia Bush (@SophiaBush) October 2, 2017
Horrifying scenes in Las Vegas. My heart and soul is with all the victims & their families and friends. Everybody please stay safe.

— Sam Smith (@samsmithworld) October 2, 2017
just woke up…can't believe this is where we are now as a nation. Mind you this is w/o context —how in god's name do they have auto? How? https://t.co/sqoF7PbkJW

— Questlove Gomez (@questlove) October 2, 2017
The news coming out of Las Vegas is that the current death count is at 20 and over 100 people have been injured after a mass shooting

— Will Poulter (@PoulterWill) October 2, 2017
Our thoughts are with Las Vegas.

Source:
Hollywood Reacts to Deadly Las Vegas Shooting, Sending Prayers and Calling For Stricter Gun Control Laws